Life Insurance

Life Insurance Corporation of India (LIC of India) is the only public sector life insurance company in India. It was founded in 1956 with the merger of more than 245 insurance companies and provident societies. LIC has its headquarters in Mumbai, the commercial capital of India and currently functions with 8 zonal offices and 113 divisional offices. It is the largest life insurance company in India with over 2000 branches and over 14 lakh agents to solicit life insurance business in the country. LIC provides wide range of According to the Economic Times Brand Equity Survey 2012, LIC of india has been rated as the sixth most trusted service brand of India. It has also bagged a number of awards such as the MEIF Institutional Excellence Award 2012, Golden Peacock Innovative Product/Services Award 2011 for its health insurance product- Jeevan Arogya, and ET brand equity most trusted brand award. LIC has been continuously winning the Readers' Digest Trusted brand award from the year 2006.
Our Plan
LIC of India Endowment Plans:
LIC Endowment Plans offer a few additional benefits also. For instance, a few plans take part in company gains while other plans produce savings via making investments in the equity market.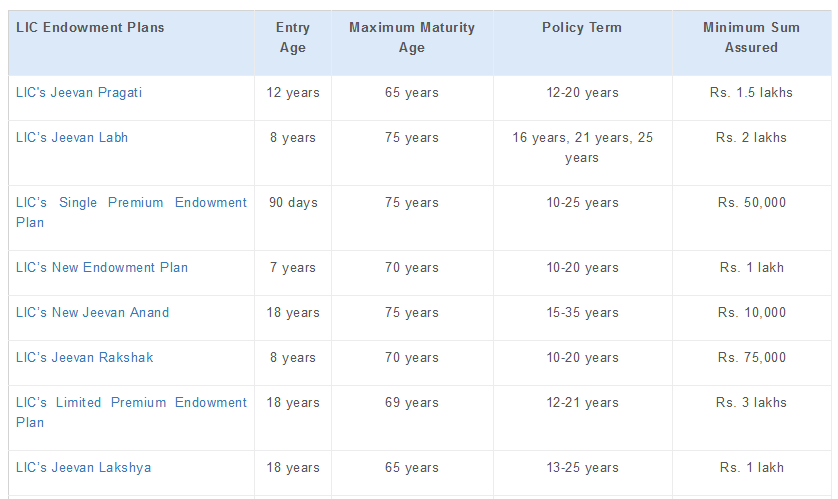 LIC of India Child Plans:
Life Insurance Corporation of India provides many insurance plans intended to meet the insurance requirements of the kids. LIC's Child Plans are exclusively designed for the parents who want to avail various insurance plans for their children's higher education, financial requirements or marriage.

New Children's Money Back Plan:
The New Children's Money Back Plan by LIC is a distinctive scheme planned to provide multiple requirements of growing kids, counting on to their education, marriage etc. This non-linked, participating money back plan comes with survival benefits along with the risk cover for the kids.
Know your Premium